Professionally done..product is just as I expected...many good comments from visitors..all are impressed with the final outcome

Very clean and professional installation am very happy with the job.will definitely recommend Sliders Grilles!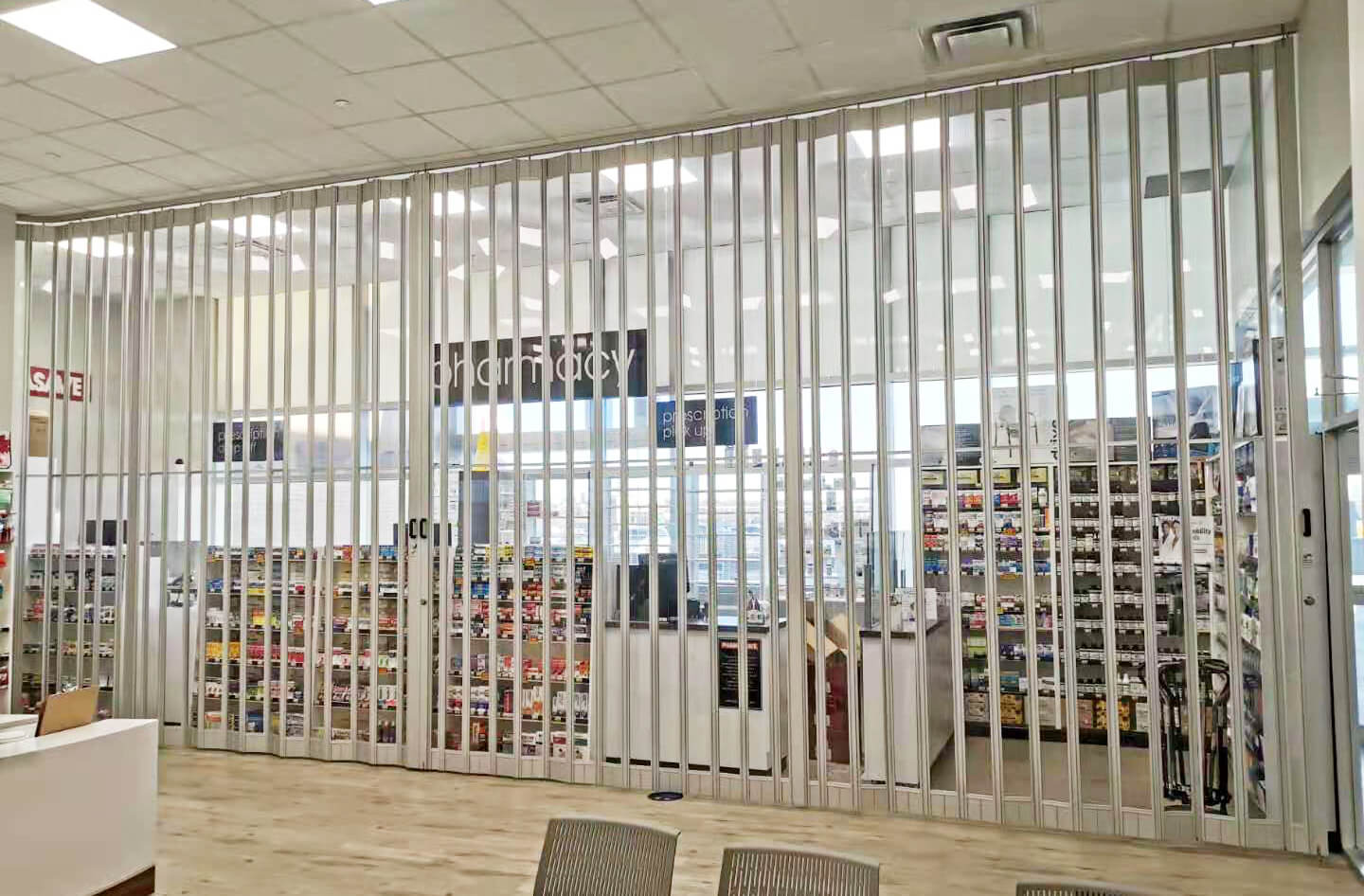 In recent years, there has been a steady increase in armed robberies and break-in attempts, focused on Canadian pharmacies. In Ontario, police have responded to increased targeting of pharmacies, by analyzing what security measures pharmacy owners put in place to protect themselves and their business.
Armed robbery attempts pose a significant risk to life. For this reason, Ontario law enforcement have recently reiterated the need for pharmacy owners to install protective barriers between customers and service counters.
"We're looking at things like, 'is your pharmacy counter completely closed so that employees are safely positioned,'"
- Windsor Police Service planner Barry Horrobin
The good news is that securing your Toronto pharmacy counter is altogether easy. Security sliding grille systems, provide a low-cost but effective way to secure service counters and physical pharmacy storefronts.
When intruders enter a pharmacy during opening hours, staff are placed in extreme danger. Because of this, most have no choice but to hand over drugs, valuables, and cash register contents. However, this needn't be the case.
When a security grille separates pharmacy service counters from public store areas, pharmacy owners can react to intrusions more proactively. In most cases, staff members will be able to move to back office areas and call for police assistance, safe in the knowledge that intruders won't be able to follow.
Criminals rarely target Toronto pharmacies randomly. In every case, criminals scout locations first to assess security conditions. Where security grate and sliding grille systems are in place, most criminals will elect to target a different location.
In pharmacies where security grille separate service counters and grilles protect storefronts, break-in attempts take much longer. Burglars attempting to gain entry out of hours are faced with multiple barrier systems which impede progress. This increases the likelihood that law enforcement will arrive on-site before burglary attempts succeed.
At Sliders Grilles, we can custom design grille security barrier systems to suit any Toronto pharmacy counter and storefront. Grilles themselves secure sensitive areas without impeeding visual access to storefronts or in-store advertising.
For added security, transparent Lexan panels can also be added to grates to give pharmacy proprietors and staff extra peace of mind.
Don't wait to become a statistic. To reduce the likelihood of your staff or your business coming to harm, call Sliders Grilles today to discuss your premises security. Once you do, one of our team will provide you with a free estimate concerning what grille or grate system might be most appropriate for your pharmacy.